To celebrate an English style Christmas means enjoying beautiful and melodious Christmas music, hanging evergreens, lilting carol singing and ornamented Christmas trees. Christmas, for the English, is a truly magical season bringing friends and families together, to share the love and affection of the season with each other. The English Christmas begins with Advent or the period of waiting for the Lord to arrive. The month of Advent begins on the first day of December and ends on Christmas Eve. The way to celebrate English Christmas is to allow the influence of its rich culture to permeate your celebration.
Some suggestions
Get an Advent candle and light it every day starting the 1st of December. The candle has 25 marks, one for each day of the month and you have to burn one mark each day.
Gather the children of your friends and family and put up a Nativity play casting the children in the roles of Mary, Joseph, the three kings, shepherds etc.
Decorate your homes with the traditional Christmas colors - green and red. Hang decorations in your home made of colored paper and foil and also hang greenery such as holly and ivy around the house.
Decorate your home from the outside using different kinds of lighting. The Christmas tree, which is at the centre of all family celebrations, can be put in the yard or if you fit it inside then it can go into the hall where it can occupy the pride of place till the celebrations are over.
Burn letters to Santa in the fireplace so that the smoke may carry your message up. Go carol singing from door to door and collect donations from every one.
Cook a traditional Christmas dinner including roast turkey, mince pies and the famous English Christmas pudding.
Do's
Invite friends and family to dinner after the morning service and serve traditional English food.
Open the presents only after the meal has been eaten.
Don'ts
Don't forget to attend the midnight mass as well as the Christmas morning mass.
Don't copy everything English without understanding its true meaning.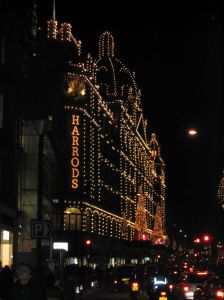 Harrods - London