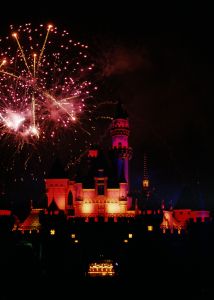 Whether it's Christmas at Disneyland or Disneyworld, you'll see the best in Christmas decorating at any one of Disney's fabulous parks. They are the hottest Christmas locations ever. Every year the parks undergo a multi-billion dollar renovation so that it's uniquely Christmas everywhere you look.

Known as the happiest place on earth, Disneyland and Disney world are completely re-done for Christmas, complete with a fabulous Christmas parade. Every park is done up with a Christmas theme making it one of the hottest places to visit over the holidays.
Epcot Center, one of the four major theme parks at Disney World goes all out with Holidays around the World and the Osborne spectacle of lights.
Disney also offers Mickey's Very Merry Christmas Party and the very special candlelight processional. There is a sparkling light display, complete with falling snow at the MGM Studios. The celebrations begin in November and continue into January so families can have a chance to see all things Christmas at Disney.
The Osborne Family Spectacle of lights dates back to 1986 when Jennings Osborne set up a thousand lights for his daughter in Little Rock, Arkansas. Now, in Disney, guests walk through a spectacle of lights decorating pretend homes, carousels, and trees.
The Candlelight Processional is a retelling of the Christmas story with a celebrity narrator and a choir and orchestra. This year the processional is in the Magic Kingdom that includes a parade, fireworks, family photos, snow and holiday entertainment.
There are tons of things to buy during the holiday season, from Christmas gifts to Christmas ornaments. The Epcot center sells holiday related items to each of the countries represented at Epcot Center. Save your Christmas buying for a trip to Disney and find some really Christmas-related gifts.
Christmas is a special place in Disney's theme parks. Book a ticket and see what the magic is all about!